Best way to perform conversion of Lotus Notes to Thunderbird
The article illustrates all about the Lotus Notes, Thunderbird, reasons that lead users to perform the conversion of IBM Lotus notes to Thunderbird and the methods to perform migrate from Lotus Notes to Thunderbird.
With the rise in technology, The desktop based email clients allow the users to access their emails even when they are not connected to any network. It helps the organizations to maintain the smooth workflow. As a result of which many users have started switching from one email client to another. IBM Lotus Notes is one of the pioneer email client trusted by most of the users. But, most of the organizations do not configure Lotus Notes exclusively for the purpose of emailing because of the high investment needed and migrate to other email clients. One such client is Mozilla Thunderbird. If you are also hunting a way to import Lotus Notes to Thunderbird, this is the right place for you. I have covered all the ways and related terms needed to perform conversion of IBM Notes to Mozilla Thunderbird.
Overview-
Lotus Notes and Thunderbird
IBM Notes, popularly known as Lotus Notes, is a software designed to collectively facilitate Instant messaging, calendars, contacts management, browsing, to-do lists, team rooms, discussion platforms, schedule meetings etc. It is a client-server platform that provides an interface which can work as an email client and mainly preferred because of its strong security features.
Mozilla Thunderbird, introduced in the year 2003, has been a popular email client owing to the various extensions and themes it offers. Thunderbird stores its emails in MBOX (Mailbox) files.
Need to export Lotus Notes to Thunderbird
Emailing requires simplified and easy to use application platform as it is a daily process. Opting a complex email client may delay your daily process and may hinder the functionality of the organization. IBM Notes is a complicated email client and put some restrictions on the exclusive database, connectivity limits and also safety restrictions. Thus, it is recommended to migrate from IBM Lotus Notes to the Thunderbird as Thunderbird is the new email client with advanced features and the most important is the cross-platform accessibility of Thunderbird.
Methods to perform conversion of Lotus Notes to Thunderbird
Manual method
There is no way to open Lotus Notes NSF files to Thunderbird without converting them to EML format. EML is an intermediate between both Lotus Notes and Thunderbird. Thus, You have to convert Lotus Notes into EML format to access them in Thunderbird. The earlier versions of IBM Notes did not provide any option to read all their mail data on a platform other than IBM Notes. But, IBM Notes 9 edition, comes with a new feature, which allows the users to save all their emails as EML format. I am explaining the procedure to enable this feature in Lotus Notes previous edition. You have to make some changes in the settings which I am describing below:
Click on

File

option in the menu bar and select

Preferences option from the drop-down menu.

In the left pane, click on

Basic Notes Client Configuration.

In the additional options section, tick the checkbox

Drag and drop saves as .eml file

and click OK.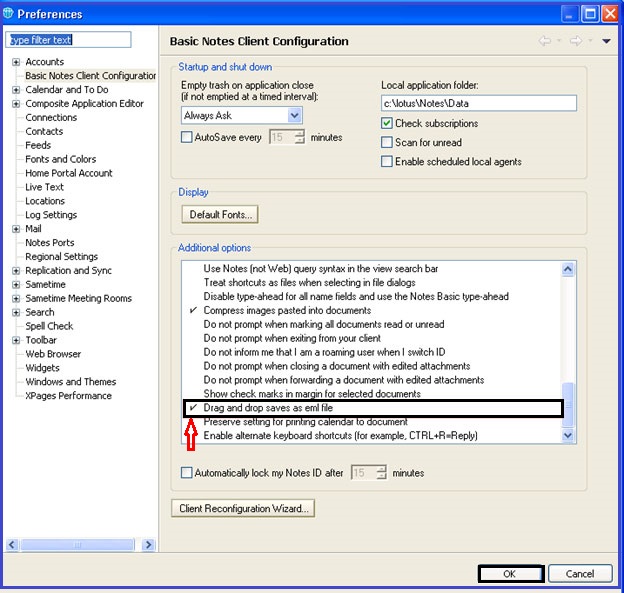 After that,  just drag and drop the required emails to save your Lotus Notes emails as EML file. Now, you can open them in Thunderbird easily just by clicking.
Using an instant Lotus Notes to Thunderbird converter
However, you can perform the conversion of Lotus Notes to Thunderbird using the manual method of saving the Lotus Notes emails into EML format. But, there are certain limitations to the manual methods. You can convert only individual emails using this method. In the case of bulk emails, this method proves to be cumbersome and time-consuming. Therefore, you'll have to use a professional NSF to EML Converter. This software tool successfully performs conversion of all the Lotus Notes emails at the same instance. Also, it is one of the reliable and authentic tools which successfully converts NSF to Thunderbird. Some of the authentic features of this Lotus Notes to Thunderbird converter are as:
Provides safe and secure conversion from NSF to EML format.

Maintain the data integrity during NSF to EML conversion

Provided with Auto-search feature to search the NSF database files in the system.

Smart file preview of NSF database before NSF to EML conversion.

Featured with Data filter option to alter the data

Useful features like remove encryption and exclude "ALL" folder in the output file

s
Final Words
In the blog, I have illustrated all about the Lotus Notes, Thunderbird, conversion of Lotus Notes to Thunderbird. As stated above, there is a limitation with the manual method which arises the need for a NSF to EML or NSF to MBOX converter. For the users who wish to export a large no. of Lotus Notes NSF files, it is recommended to use a Lotus Notes to Thunderbird converter. This tool is inbuilt with an intuitive GUI so that even a novice user can use it with ease.