Best ways to migrate Lotus Notes to Outlook by conversion of NSF to PST
Article Summary: This blog demonstrates all about the importance of the two most widely used email clients i.e. Lotus Notes and Outlook, reasons that make users to migrate from Lotus Notes to Outlook 2016, 2013, 2010, 2007 and the workarounds to perform conversion of NSF to PST using free as well as professional method.
With the rise in technology, numerous options are available to perform any task. Same is the case with the email system, the two finest email clients that are widely used worldwide are IBM Lotus Notes and Microsoft Outlook. Lotus Notes supports NSF file format whereas Outlook saves its files in PST file format. Sometimes, under some circumstances, users seek to switch from IBM Notes to MS Outlook. But, NSF files cannot be migrated to Outlook directly. There must be a conversion of NSF files to PST file format for the migration. So, let's discuss the best free methods for this Lotus Notes NSF to Outlook PST conversion. But, before that let's dig in the reasons that make users to perform this conversion.
Reasons to export IBM Lotus Notes to Outlook by the conversion of NSF to PST
Some of the reasons that attribute to the migration of Lotus Notes to Outlook by performing the conversion of NSF to Outlook PST:
Outlook is

cost-effective

when compared to Lotus Notes.

In a comparison of other email clients, Outlook is more secure.

MS Outlook allows users to

configure multiple accounts

simultaneously.

Outlook demands

less maintenance

cost.

Lotus Notes is

less user-friendly

and

complex

in GUI than MS Outlook. Outlook is suitable for the novice as well as technically sound users. Non-technical users find it difficult to work with Lotus Notes.
Methods to perform conversion of NSF to PST
Basically, there are two methods for this conversion:
Manual method

Automated method
Let us discuss each method one by one.
Manual method
It is a free method for NSF to PST conversion. But, remember to create a backup before proceeding as conversion may lead to data loss or alteration of data. This process involves two steps:
Export the Lotus Notes NSF files from the Lotus Notes to an intermediate CSV file.

Import the intermediate CSV file into MS Outlook
Step1# Export the NSF files from Lotus Notes to CSV
Go through the below process for this:
Launch

IBM Lotus Notes

application.

From the window that is opened, click on

open and select the NSF file to be exported.

Now, click on the

export

after the file menu.

After this, an

export wizard

will be opened. Allocate a location where you want to save the new file.

In the "

Save as Type

" menu, select the

comma separated value (CSV) file format.

Now, a

CSV Export dialog box will appear. Select the options accordingly and tap OK.

All the data will be saved in the CSV format at the specified location.
Step2# Import the CSV file into MS Outlook
Now, follow the below steps to import the CSV file into Outlook:
Run Outlook. On the File menu, click on

Open & Export

and then click on

Import/Export.

Now, an

Import and Export Wizard

will be opened. Select

Import from another program or File

from the actions and click Next.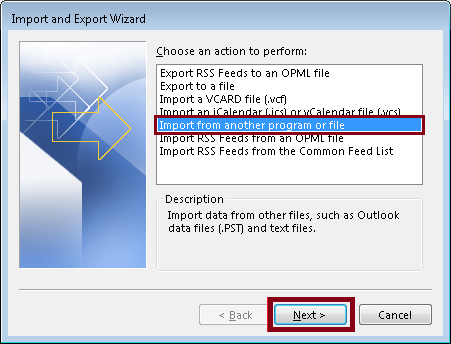 Select

Comma separated value in the file type and click next.

Click on

browse to select the CSV file created earlier and choose from the options accordingly.
Select the folder where you want to save your data that is exported and click next.

Select the

checkbox

in import a file dialog box and click on

Finish.

Now, all the data from the CSV file will be imported to Outlook.
Limitations of the manual methods for conversion of NSF to PST
Converts only one file from NSF to Outlook PST at a time and hence lengthy process.

A complex and tedious task for novice and non-technical users.

Time-consuming and can't migrate entire data.

Should be done with utmost care otherwise may lead to data corruption of NSF files.
Automated method of using an NSF to PST Converter
Users can go through manual methods. But, as explained above, there are certain limitations associated with manual methods. However, if using these manual methods, then the entire process should be done with utmost care and after creating a backup of NSF files. But, there may be a possibility that even after performing with care, you are not able to migrate entire data to Outlook. In such a scenario, an automated method of using a professional NSF to PST converter should come into the picture. This third-party NSF converter is having one of the advanced features that makes it best Lotus Notes to Outlook converter.
Final Words
Both manual and automated methods have been explained in the blog. Users can take help of any of the methods. But, it is recommended to use a professional NSF converter software as it is one of the most reliable and authentic NSF converter software and helpful in exporting Lotus Notes to Outlook. Hope this helps.