IBM Notes failed to start successfully error- Resolved
Summary: This technical post intends to provide the users with an insight of the IBM Notes failed to start successfully error. In the blog, I'll discuss the possible reasons behind the error and the manual solutions to fix it.
IBM Lotus Notes is the most widely used email application globally. Many organizations use it for their business communication because of its features and functioning. But, in the same line as that of other email clients, it is also prone to errors. In other email clients, generally, an issue arises when there is some problem in the system. But, in Notes, due to issues in Notes application an error occurs. There is an error "IBM Notes failed to start successfully" which is faced very frequently by the users.
IBM Notes failed to start successfully- An overview
The problem occurs when users upgrade their present Notes version to Notes 9.0.1 FP9 onwards. After they enter the password, they are not able to launch IBM Notes and an error message is splashed on the screen after some time as: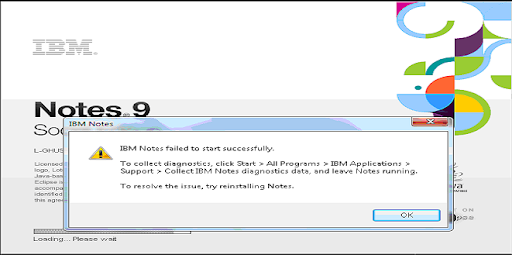 You may also read: Lotus Notes no sitemap found error
Symptoms of the error
While launching the IBM Lotus Notes, notes2.exe do not run after checking the Windows Task Manager. Also, after running a manual NSD by navigating through the path "Windows Start button" ⇒ "IBM Applications" ⇒ "Support" ⇒ "Collect IBM Notes diagnostic data and exit Notes" will not enable to get manual NSD. You will be allowed to collect NSD by running nsd.exe. However, the data file would not be completed.
Cause of IBM Notes failed to start successfully error
The primary cause behind the occurrence of the error is when users try to launch the Notes, notes2.exe is unable to run as a result of which Notes application doesn't load completely.
Environment
This issue has been started on Lotus Notes version 9.0.1 FP9 and is seen until the Notes 9.0.1 FP10 IF5 irrespective of Windows versions. However, the issue is random. It does not appear on all the Notes environment or Domino server.
Fix IBM Notes failed to start successfully error
The above issue has been noted in SPR ATHNAZ2H55  as NSD does not have call stacks for IBM Notes on Windows 10. Also, it has been fixed on Notes 9.0.1 FP10 IF6 and can be downloaded from below URL:
http://www-01.ibm.com/support/docview.wss?uid=swg21657963
You can consider the following manual workarounds for this error prior to Notes 9.0.1:
Launch the IBM Lotus Notes application as Windows Administrator

Use Notes 9.0.1 FP8 instead of 9.0.1 and wait until you are allowed to upgrade to FP10 IF6

Run Lotus Notes in Basic mode

Exit the IBM Notes. Copy Notes JVM Folder from the multi-user installation that is working over the JVM folder already existing and restart the Notes

Exit Notes. Delete the JVM Folder and allow to CMS push the client again to the same machine. Once it gets completed, start the Notes again to check whether it is working fine or not
The mentioned fixes are manual. You need to try them first. If the IBM Notes failed to start successfully error still appears, there might be some problem in Notes NSF file. The Notes mailbox items such as emails, journals, contacts, calendars, events etc. are very crucial for the Lotus Notes users as all these involve the professional and business communication. So, it is necessary to fix corruptions in the NSF file. You can do so by using an efficient and reliable professional software. Using it, users can access their Notes mailbox contents after resolving the above error.
Final Words
Most of the times users encounter several errors in IBM Lotus Notes whenever they try to launch it. In the above technical script, we've discussed the error IBM Notes failed to start successfully and the ways to fix this error. You can also employ a professional third-party software if the problem doesn't get fixed manually.