Know Lotus Notes Default Archive File Location, how to create & archive
IBM Lotus Notes are one among the most organized way of workflow communication across the businesses. All the detailed information of mailbox like emails, contacts, calendars, events etc. are stored in .nsf file format. But, with the usage of IBM Notes with/without the server results in the continuous pile-up of Notes NSF database. Due to this, NSF files become oversized and tend to make the system sluggish and slow. To avoid this, we can archive our Lotus Notes NSF database. In this blog, we'll discuss Lotus Notes archive file location, how to archive and unarchive NSF files etc.
Archiving in Lotus Notes
Archiving means copying all the data to another location on the same system. You can archive all your emails and other mailbox data to save space in your Notes account. Also, by doing this you can keep your old data for future reference without actually deleting them.
Lotus Notes archive file location
The default location of IBM Lotus Notes archive files are as:
C:/Program Files/IBM/Notes/Data/Archive/archive.nsf
Creating Lotus Notes Archive Folder
You can go through the following steps for archiving your Lotus Notes database.
Launch IBM Notes on your system and move to inbox.

Create a folder in which you want to move archive data.

In the menu bar, click on

Actions

, then

Archive

and further move to

Create Criteria.

Enter a name for the folder in the Create Archive Criteria window and click on the checkbox of Enable this criteria.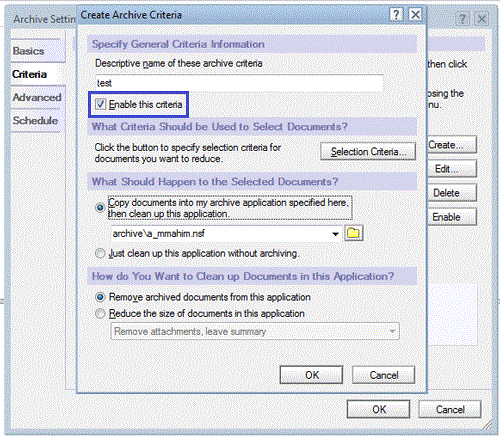 Now, hit a click on selection criteria button to select mailbox items for archiving.
Select the folder and proceed with OK button.
Specify a schedule for archiving and hit a click on OK button.
Now, go to Actions in the menu tab again. Click on Archive and then on Archive now.
A dialog box will be appeared asking your permission to archive. Click on Yes.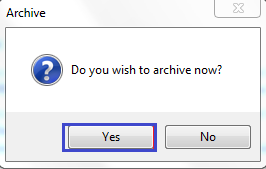 Reducing the file size of the large archive folder
By archiving, we save the space on the server by shifting the Notes database to another location so that there would not be any issue regarding file size and storage. But, archiving can be done only up to a certain limit. If the user exceeds that limit, there are chances of data corruption and loss. To avoid this situation, you need to follow these steps.
Open the large-sized archive folder.

Navigate to

File ⇒ Application ⇒ Properties.

Now, go to the last tab and click on the checkbox of Compress document data.

After that, move to the second tab and hit a click on compact. Check the file size after compact.
Unarchiving Lotus Notes emails
By unarchiving, we can restore back the archived folders to the original Lotus Notes archive file location. You can perform unarchiving by following below steps:
Open the IBM Notes and select the option

Archived emails

.

The mail items which you wish to unarchive have to be deselected.

Now, hit a click on "return to inbox". All the emails and other items you have deselected will be unarchived and will be restored to the original location on the system.
Sometimes, while archiving the Lotus Notes documents, a "file does not exist error" occurs which hinders the archiving process. This error message generally arrives when archived NSF file is not found on the IBM Notes directory. This error needs to be fixed for carrying forward the Archiving process. You can refer to this blog to fix File does not exists error.
Also, in some scenario, the above problem exists due to corruption in NSF files. To fix this corruption, users can use professional software. Also, some users found it difficult to retain with Lotus Notes because of its complex features and interface. Due to this, they wish to migrate to Outlook because of its interactive features and simple interface. To fix all these issues, users can employ an NSF to PST Converter. It successfully exports Notes NSF files to Outlook. Also, it supports NSF files which have been corrupted.
Final Words
In the blog, I have explained all about the archiving, how to archive NSF files and the Lotus Notes archive file location. Manual methods have been explained. Follow the above method for archiving NSF files. I hope the article is helpful to the users.